Bratislava's Panelaks Monoliths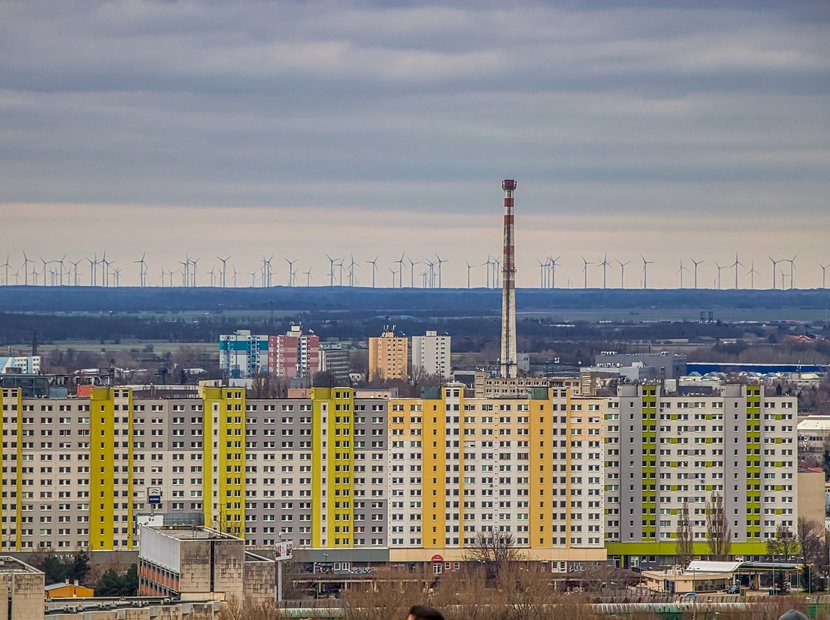 Massive monolithic structures dominate parts of Bratislava's cityscape: these are the panelaks - panel buildings - evocative of the post-World War II Communist era when the housing crisis demanded a quick fix.
The panelaks architects focused on functionality rather than aesthetics: building them was quick, cheap, and efficient. Large prefab concrete slabs formed the walls, standing straight, drab, and unadorned by unnecessary decorative sculptural elements, railings, and edges.
After World War II, throughout the Communist era - until the early 1990s, hundreds of such monolithic structures were erected nationwide, especially in Bratislava, where the most significant concentration is in Petržalka, the capital's largest borough. The panelaks here provide housing for more than 100,000 citizens.
Today, to break their monotony, the city's planning department painted most panels with pastel hues in geometric patterns. The paint also served to renovate the buildings and preserve the concrete.
Yet, despite the colorful facades, the apartments inside are small, mostly lacking insulation and providing only basic living conditions, featuring no more than a kitchen, a bathroom, one bedroom, and one living room. But regardless of their appearance and lack of comfort, these structures are here to stay - demolishing them would be costly and impractical since many apartments are privately owned by their occupants.
Thus the panelaks remain a fixture of Bratislava's urban landscape, somehow coexisting with the city's more impressive Brutalist and Modernist-era structures, Gothic and Baroque buildings, experimental architecture, and stunning 21st-century glass high-rise towers.
Petržalka's panelaks monoliths are rather curiosities than attractions, although several guided tours lead here to share a slice of the city's Communist history. While visiting this borough, here are other attractions you could see:
Bunker BS 8 Cemetery - part of the city's defense system in response to Hitler's rise to power. The bunker is adjacent to the Nesto housing development and easily accessible from Kopčianska Street. It is a military museum near a World War I military cemetery, the final resting place for some 331 soldiers. The bunker has a park with a barbecue area and fireplace, perfect for picnics and cooking activities (for example, cooking military goulash) - booking is mandatory to access the site, and no unannounced guests are permitted.
Janko Kráľ Park (Sad Janka Kráľ), which was first landscaped in a Baroque style between 1774-1776, is the oldest park in Central Europe. Besides a walk in nature, you will also enjoy here several landmarks, including a stunning Gothic tower, Gothic tower - previously a Franciscan church tower). The statue of Janko Kráľ in the park is by sculptor František Gibala in 1964. The park is named for Janko Kráľ (1822-1876), who was a prominent Slovak romantic poet (among the first to write in the modern Slovak language) and national activist.
Bosákova Street Fountain , called "On the beautiful blue Danube," is one of several fountains in Petržalka. It was designed by Miloš Kedrovič and built and operated by the civil engineering company Vodotika.
Veľký Draždiak is a 13-hectare lake and a popular summer swimming and sunbathing destination for the locals. It is also an excellent habitat for waterfowl - you will see swans and ducks gracefully gliding on its surface, and if you are into birdwatching, you will see many other water birds. There is also a children's playground in the area, beach volleyball courts, and a restaurant. You can rent water bikes and kayaks in the summer. In addition, the lake is surrounded by paths where you can go jogging or cycling.
Malý Draždiak is an artificial lake - part of the Zrkadlový Háj housing estate - created due to gravel mining in the area. It is a favorite spot for fishing. Swimming is possible at your own risk. Besides brick fireplaces and a gazebo with seating and a table, no amenities exist, so come prepared with a picnic basket to enjoy nature here. You can also observe waterfowl or take a walk in the forest.
PumpPark Petržalka is a BMX bicycle track built by volunteers. Mainly BMX racers use it, but it is also suitable for skateboarding and inline skating. It is a public sports park and the largest area of ​​its kind in Central Europe. Another skate park in Petržalka is available under the Apollo bridge.
So, if you visit Bratislava and you are curious to see its panels, you have several other attractions few tourists visit. In essence, you will see the Slovak capital like a local .