Sad Janka Kráľa in Bratislava Is the Oldest Public Park in Central Europe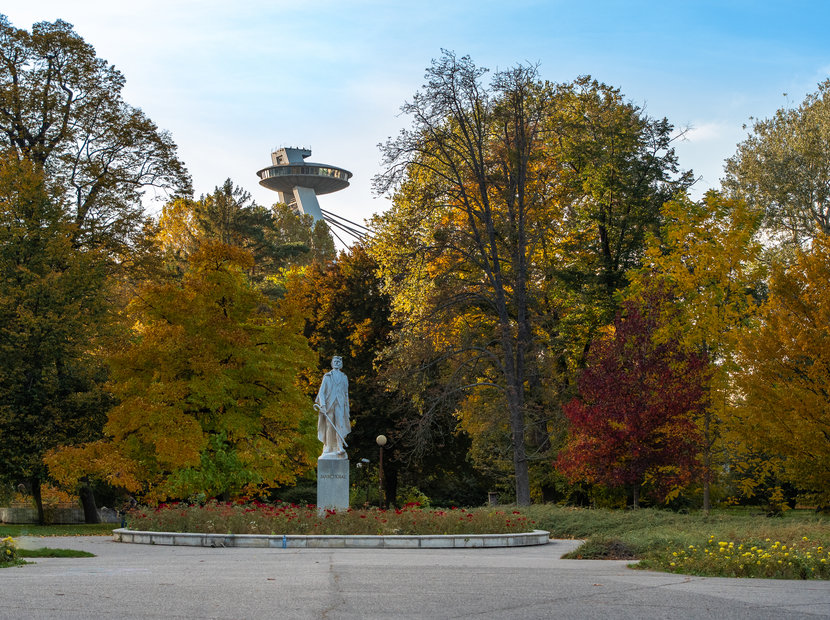 Sad Janka Kráľa traces its history back to 1774-1776, during the reign of Maria Theresa when it first opened as a public park. The original landscape was influenced by the Baroque style of the time. It had an eight-armed star intersection of pathways shaded by alders, poplars, maples, and willows, among other tree species, which also gave their names to each alley. This star pattern influenced the first name of the park, Sternallee (German for Star Alley).

The landscape changed in time, and its current general aspect dates from 1839, although the park underwent a significant transformation in the 1970s when all the wild bushes were removed to reveal the massive trees that make the current skeleton of the garden. Subtle elements of décor, like circular nooks with zodiac components, were added to boost the relaxing atmosphere of the park.

Sad Janka Kráľa's most striking architectural feature is the Gothic tower (Gotická veža), a gazebo, formerly the tower of a Franciscan church of the 15th century. It is the symbol of the park and a popular tourist attraction. Another landmark is a statue of Janko Kráľ by sculptor František Gibala. This sculpture was placed at the intersection of the paths that cut across the park. Janko Kráľ (1822-1876) was one of the most acclaimed Slovak romantic poets, and this park celebrates his legacy.

Due to its flora, the park has significant dendrological value. It boasts several native species, including maple trees – some over 200 years old and protected – as well as several species of poplar trees. Evergreen English Yew, cherry laurel, and exotic species like Ginkgo Biloba and Chinese metasequoia are well represented too.

Set between the Old Bridge and the New Bridge in the Petržalka borough of Bratislava, Sad Janka Kráľa is more than a meeting point and oasis of peace for residents and tourists of all ages. Visitors enjoy picnics in the park, swing dance lessons, and regular outdoor concerts in the summer.
Ideal for leisurely strolls too, the park offers easy access to the Danube embankment, where, from June to September, Magio Pláž is a busy beach with a rich cultural program, concerts and entertainment, an open-air cinema, good food, sports activities, playground for the little ones, and all kinds of educational lectures and workshops for all ages.

Several cafes can be found around Sad Janka Kráľa. Shopaholics will not want to miss Aupark, Petržalka's famous mall, boasting over 200 shops, an ample food court with over 35 restaurants, and entertainment for cinephiles at Cinema City.