Springtime in Warsaw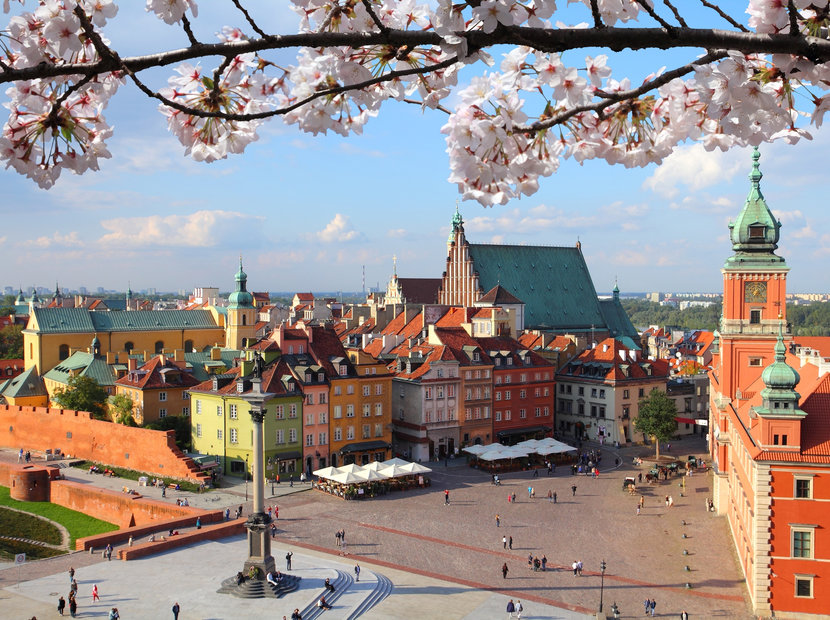 The official first day of spring is March 20, with the arrival of the vernal equinox, but the weather - albeit a bit capricious - is still milder than in the winter, and you can already find plenty to do to celebrate springtime in Warsaw. And come April, the city dresses in bright colors, celebrating nature's awakening with hope and joy.
You can take a stroll in a park, stand in the sunshine under a tree, or rent a Veturilo bike to tour the city. Nature invites you outdoors with soaring birds, buzzing insects, and tiny blossoms everywhere. Spring is one of the most beautiful seasons to visit the "Paris of the North."
Here are a few activities to inspire you when you visit Warsaw in the spring.
Targ Śniadaniowy - Breakfast Market from April Till October
When the weather is fine, it's a pity to dine indoors. So instead, go outside at the breakfast market - Targ Śniadaniowy - and enjoy a selection of Polish and international delicatessen, mains, desserts, bread, and ready-made preserves. The market is fun for all ages and filled with surprises, like workshops for children, games, concerts, and various live events.
Stroll Down the Vistula River Promenade
The beautiful riverside promenade is one of the best places for a stroll or a bike ride. You can stop at a beach to relax on a sun lounger and turn your face to the sky to take in its soothing blues.
It's here where you can capture mesmerizing images of the Vistula River and the city. If you want a souvenir of sorts, snap a picture of Syrenka Warszawska, the Mermaid of Warsaw. The sculpture by the Vistula River is downtown, in the Powiśle neighborhood. Designed by sculptor Ludwik Nitschowa and erected in April 1939, the statue is a symbol of both Vistula and Warsaw.
Other attractions along Vistula Boulevards include the Museum of Modern Art and the Copernicus Science Centre.
Visit the Multimedia Fountain Park
Warsaw's impressive Multimedia Fountain Park is among the top tourist attractions from spring to fall. Stołeczna Estrada organizes here a variety of events like Garlands on the Vistula, Warsaw for Children, and Warsaw Energy Day, as well as exhibitions and concerts in the Fountain Artistic Pavilion. Besides these, you can also catch a show of light, sound, and water -- every Friday and Saturday in May, June, and July at 9:30 pm, August at 9:00 pm, and September at 8:30 pm.
The fountain complex boasts two fountains: a linear one called the water organ and the central fountain. Combined, they have 367 nozzles and 295 LED RGB floodlights for spectacular light effects. Of course, there are also fountains for the little ones to play when the weather is scorching hot.
Visit the complex to watch a light and water show, relax, or dine at the on-site Fontanna Restaurant , which serves a variety of starters, salads, soups, mains, pizza, and desserts. They also have a barbecue area and seasonal garden open during the warmer seasons.
A Walk in the Park
Warsaw dresses in a rainbow of colors every spring. The city has several urban parks and gardens, each beautiful when nature awakens after a sleepy winter.
Łazienki Park is Warsaw's most famous destination. The park takes over 70 hectares right in the city's heart. Its landmark is the Royal Łazienki Museum - former summer residence for King Stanisław August - a classicist architectural masterpiece surrounded by breathtaking nature. The park itself has three gardens:
Royal Garden : occupying the marshlands of the former Hunting Grounds, it features elegant paths lined with trees and bushes, delightful flower beds, and landmark attractions like the Tancred and Clorinda sculptures and a Hermitage.
Romantic Garden : an example of nineteenth-century European garden design adjacent to the Belvedere Palace. It has rich shrubs, trees, and perennial plants surrounding an artificial pond and river.
Modernist Garden : featuring Polish and European garden art of the Modernist era, characterized by geometrical forms like squares and circles that accentuate important places within its premises.
Ogród Saski - the Saxon Garden - is another delightful destination to visit in the spring in Warsaw. The historic park is the oldest in the city, having opened its doors to the public in 1727. Among its primary attractions, you will find an 1863 sundial designed by physicist and meteorologist Antoni Szeliga Magier, the Tomb of the Unknown Soldier on the site of the former Saxon Palace, and an 1855 Empire-style fountain designed by Marconi.
Skaryszewski Park across the Vistula River (on the river's right bank) ranks among Europe's most beautiful parks. Since only a few tourists adventure here, it may be nice for a stroll if you seek peace and tranquility. Among its beautifully landscaped grounds, you will discover several monuments and sculptures, notably a bust of Ignacy Jan Paderewski, Stanisław Jackowski's 1926 "Dancer" sculpture in the rose garden, and the 1929 "Bathing Woman" sculpture by Olga Nieniewska by the lake. The park also has an amphitheater for concerts and live events.
A Bar Above's Springtime in Warsaw Cocktail Recipe
And since the season is here, if you are not in Poland, you can still celebrate it with a refreshing cocktail called "Springtime in Warsaw," created by master mixologist Julia Tunstall for Match.com:
3 parts vodka (75 ml)
1 part strong chamomile tea (25 ml)
1 part honey (1 tablespoon)
1 part lemon juice (25 ml)
crushed ice
Seltzer water (or sparkling water)
lemon wheel to decorate
Dissolve the honey in hot chamomile tea and let the mixture cool off completely.
Pour vodka, honey-chamomile tea, and lemon juice into a highball glass. Stir until well mixed. Add ice and top with seltzer water until the glass is full. Decorate with a lemon wheel.