Art Galleries in Budapest's Inner City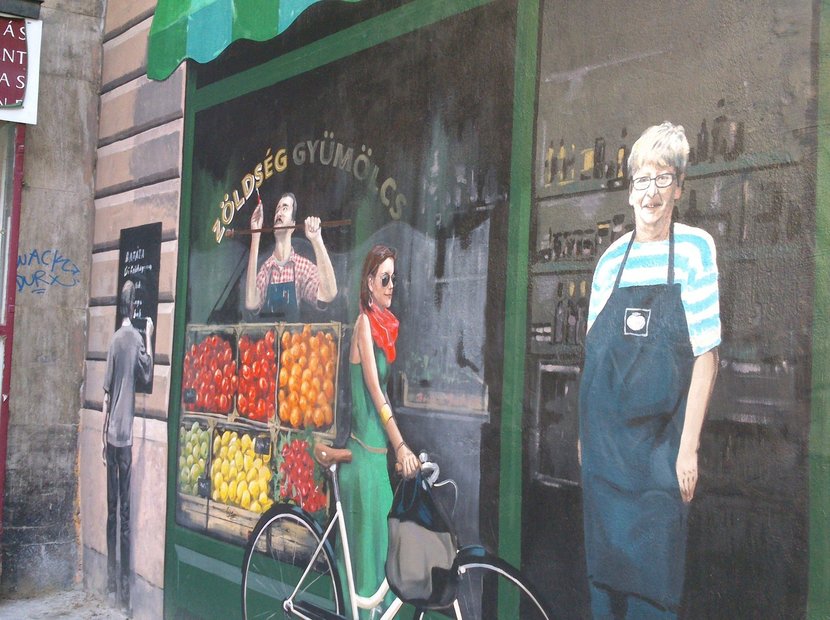 Budapest is an impressive citadel with a rich cultural tapestry transporting visitors and residents back in time, around the world we live in today, and ahead into the future - all for the price of an admission ticket, if not for free.
As you explore the Hungarian capital, you will stumble across a cultural attraction at every step, around every corner, especially in the historic neighborhoods and the Inner City. Here there's the largest concentration of art galleries in Budapest, just 25 minutes on foot from Mamaison Residence Izabella and a short drive from Mamaison Hotel Andrássy.
When you stroll around the Inner City, here are the galleries you don't want to miss:
KuglerArt Gallery : contemporary fine art gallery focusing on Roma (Gypsies) art, featuring tangible memories of the Roma folk culture, authentic Gypsy folk art objects, ethnographic films, books, music, and more. The gallery also aims to introduce to the public young Gypsy painters, sculptors, photographers, etc. Featured KuglerArt artists include János Bogdán, András Balázs Balogh, Henrik Kállai, Hello Mara, and István Szentandrássy, among many others. The gallery is open from Tuesday to Friday between 10:00 am and 6:00 pm and Saturdays from 10:00 am until 3:00 pm. Free admission.
Address: Sütő u. 2
Contact: +36209194202
Léna & Roselli Gallery : aims to represent the artistic values ​​of the Hungarian fine arts in the context of the Eastern European community. They showcase contemporary art in different media. All works in the collection are eligible to represent cultural traditions and professional and spiritual values ​​internationally.
Address: Galamb u. 5
Contact: +36304357443
Genezis Gallery : showcases works by fine and industrial artists Róbert Pelles, Csaba Szegedi, Éva Kun, Péter Borkovics, Ernő Tóth, and Kristóf Tóth. You can admire the art in the exhibition hall and buy your favorite pieces. The gallery's main objective, however, is to display the work of Róbert Pelles. The gallery is open Monday through Saturday from 12:00 pm to 6:00 pm.
Address: Váci u 19-21
Contact: +36304613646
MyMuseum Gallery: is a contemporary space with a focus on digital art, photography, video art, and installations. It promotes young talents in these fields, offering artists a platform for experimenting and collaboration. The gallery organizes exhibitions, art projects, workshops, and interactive events. In addition, it participates in art fairs and other contemporary art events, keeping close ties with the local communities and encouraging guest artists to showcase their works within the gallery's exhibition spaces.
Address: Piarista köz 1
Contact: +36205676045
Ernst Galéria: aims to introduce native art and talent to the international market as an ambassador for Hungarian art. In this context, the gallery collaborates with art institutions and museums such as Musée d'Orsay Paris, Berlinische Galerie Berlin, Hôtel de Ville de Bruxelles, Kunstforum Wien, Wolfsonian Miami, LA County Museum Los Angeles, Lincoln Center New York, etc. Visit this gallery for prints, paintings, art jewelry, and antiques.
Address: Irányi u. 27
Contact: +3612664016
DinDin Galéria: is an art incubator and springboard for recently graduated artists. It focuses on contemporary art, organizing exhibitions, and other events. Visit the gallery to discover young Hungarian artists' works and purchase them. Some featured artists with works for sale include Dorka Vincze, Daniel Labrosse, Ákos Rafai, Klaudia Kőrösi, Matyas Czanik, and Aliz Menta Sipos, among others.
Address: Veres Pálné u. 5
Contact: +36309298103
Nanda Art Gallery: studio and exhibition space featuring sculptures by artist Nánda Stössel. The artist uses terracotta and frost-resistant clay to create whimsical figurines, bas-reliefs, and masks. Her graphics are inspired by mythology and fantastic tales. Visit the gallery to purchase a one-of-a-kind artwork that can make a perfect souvenir from your time in Budapest.
Address: Nyáry Pál u. 8
Contact: +36304763694
These are just seven Inner City art galleries. As you stroll around this historic neighborhood, you will discover several other art spaces and even internationally-celebrated street art like the murals Let Sourdough Be the Bridge by urban muralists Színes Város (on Gerlóczy utca 13) and Miraculous Hind or White Stag by BreakOne (Régiposta utca 4).
For more street art, walk from Mamaison Residence Izabella to Dob utca, where you will find many murals, including Greengrocer, Rubik's Cube and City Forest by Neopaint, Love Thy Neighbors by Luke Embden, Street or Gallery by Márton Hegedűs, and Angel Sanz Britz by Okudart.
The murals enhance Budapest's bohemian atmosphere while transforming it into a veritable living art gallery.