Summer Season at La Rotisserie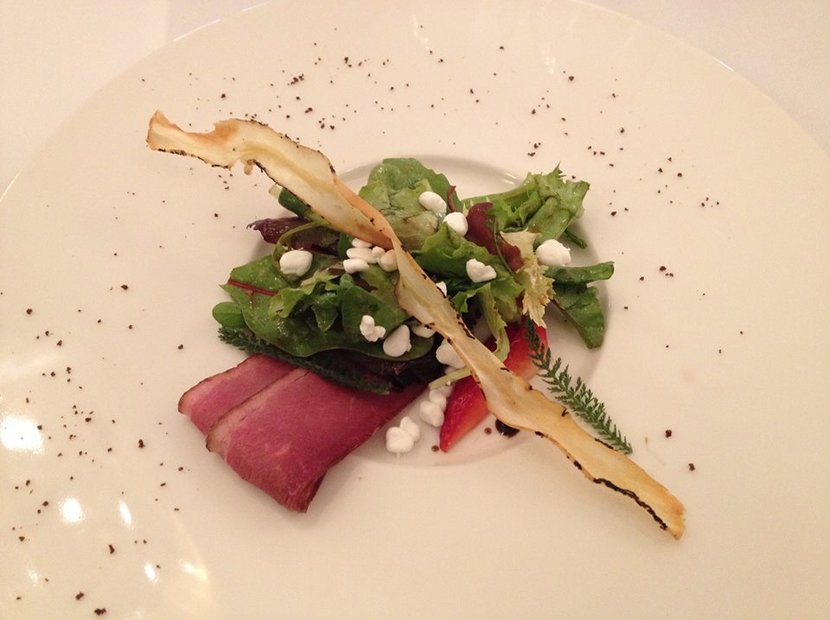 La Rotisserie
, the gourmet experience at Mamaison Hotel Le Regina Warsaw, is set to dazzle and seduce you with seasonal cuisine every time you visit. Chef Paweł Oszczyk does not rewrite the rules of French cooking: he is fluent in execution, and he applies every morsel of knowledge to design the ideal Polish-French fusion menu, with perfectly crafted starters, and mains that will blow your mind. Such is this month's menu, a creation worthy of VIPs, but affordable to all, be them foodies or simply people looking for a decent meal to tame their hunger. Introducing conversation-stopper duck pastrami, a salty, spicy, sweet, and fatty delicious starter, served under a bed of salad and strawberry, and seasoned with fresh herbs with an unbelievable coffee dressing. A rich, succulent meat, and the freshness of the salad with the perfect side of strawberry, make for an extraordinary treat: a scene stealer, by all means, you'd think, but things will only get better, with the next star of the tasting menu.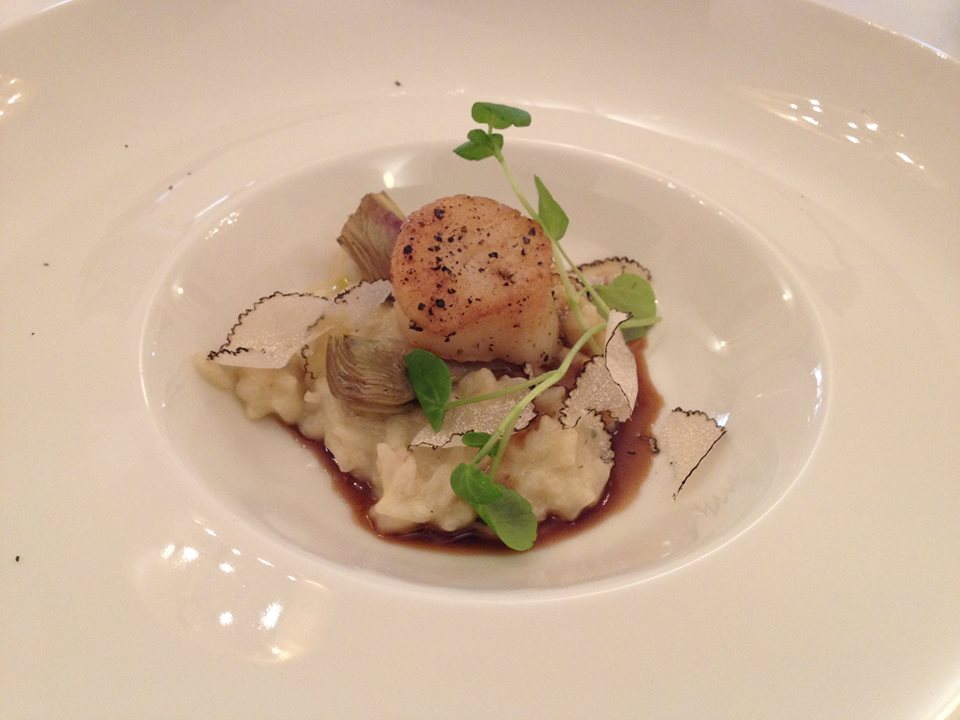 An everyday ingredient in Italy, the humble artichoke is not so humble when handled by Paweł Oszczyk: it's becoming a posh highlight for a basic risotto bianco, that will make you crave for more. It's Warsaw: artichokes are not a traditional meal here. But Oszczyk delivers a menu that rivals the most celebrated restaurants, and chefs, of the world. Think Gordon Ramsay's Jerusalem artichokes risotto with seared scallops, such a sensational experience for the taste buds, but nothing compared to this dish, which comes in an enjoyable size, topped with scallops, plus summer truffles for an extra kick.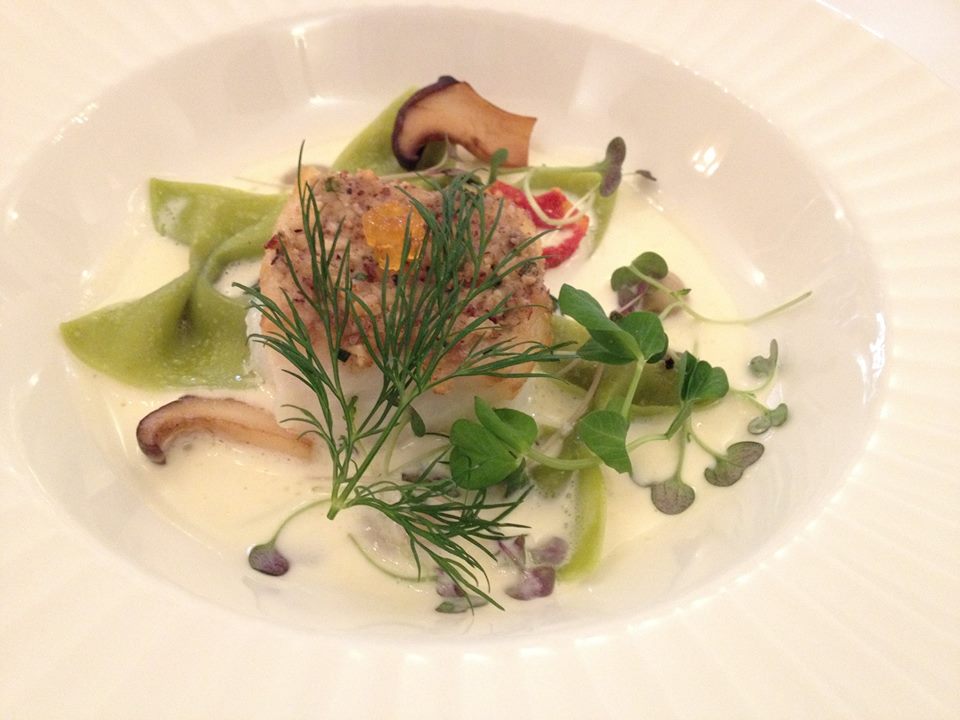 The highlight of the menu is a beautifully roasted fillet of Atlantic cod. The chef is using wild-caught fish - the best possible choice for the star of the show - and creates a eat-it-now kind of dish, which tastes as good as it looks. The cod is an island surrounded by green farfalle, hand made with a touch of fresh herbs, which blend with the rest of the ingredients into a symphony of unexpected flavors, and yet so masterly assembled. There's a hint of tomato there, near the tangy mushrooms. Then, you'd think that the unbelievable hazelnut pesto is enough to bring this dish to its whole, but the Chef has two more aces that crown, effortlessly, the plate: crab and caviar.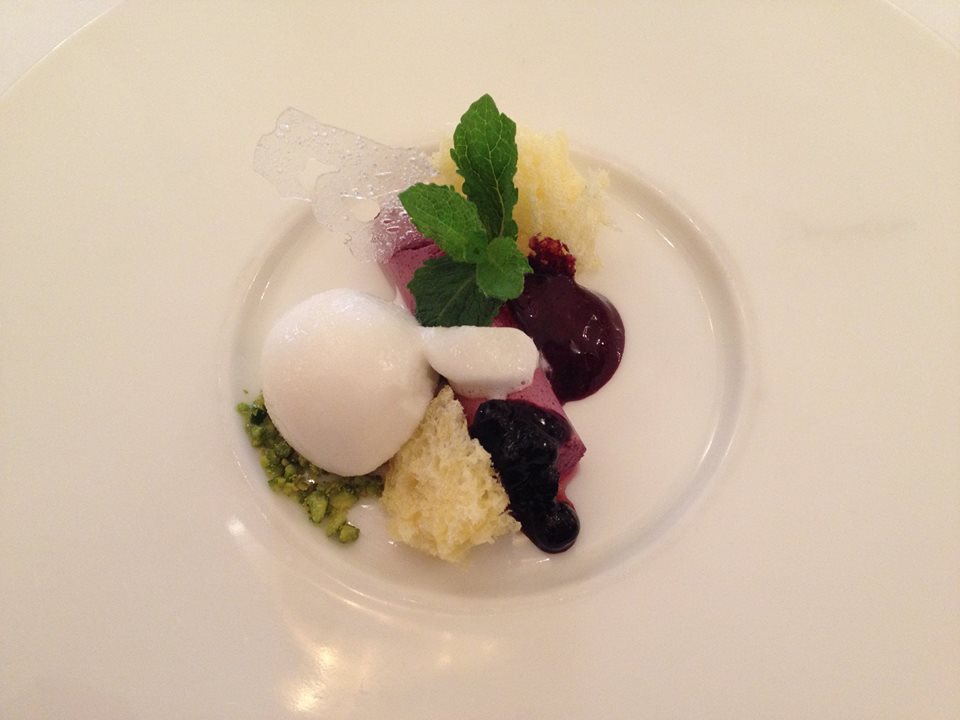 Finally, the lesser known relatives of blueberries, the bilberries end this spectacular menu, in a dessert that will steal your heart. A surprising, yet equally inspired, marriage of ingredients brings you the bilberry cake with a refreshing sorbet made with pine sprouts. This is not your everyday dessert. For wine connoisseurs, the selection put together by Andrzej Strzelczyk, sommelier champion of Poland in 2012 and 2013, is just that extra touch to bring this dining experience close to perfection. With such a lineup, there is no wonder that the restaurant attracts so many tourists, but don't be surprised by the large number of locals who enter its doors. La Rotisserie is also a media darling: local food bloggers, seasoned journalists, artists and VIPs are often seen lunching at pristine tables, always in good company. You'd think, with such credential, that the restaurant is out of your reach: fear not, with La Rotisserie, gourmet food is made available to indulge you with one delicious taste after another.
Mihaela Lica-Butler is travel writer and travel public relations consultant by profession, lover of cultures and cuisine. She has built a fun career while chiming in on many topics, from relating the trials and tribulations of the people of Kosovo, to experiencing, first hand, the heroics of the Romanian soldiers serving for the UN. But she thrives in conveying her love for travel and places in written word, and she is happy to be a constant contributor for some of the world's best travel sites.