The Christmas Markets of Budapest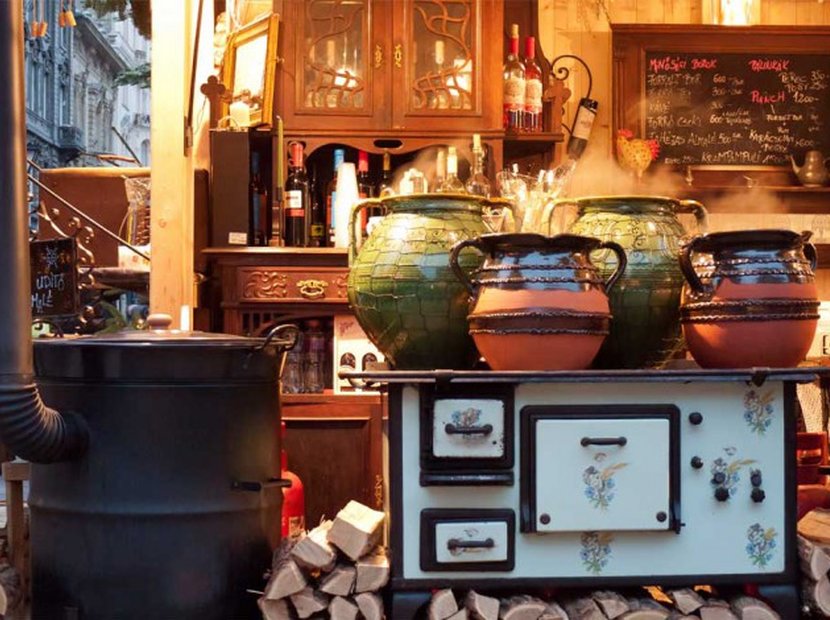 Budapest loves its Christmas traditions, and its festive fairs are as popular as any similar activity in the neighboring countries. In places like Vienna, Prague, Leipzig, Dresden, Basel, and so on, Christmas markets attract thousands of tourists. This is the case for the Christmas Market on Vorosmarty Square in the heart of Budapest, a traditional event since 1998. But this is not the only fair to enjoy the Christmas spirit in town. Like everywhere else in Europe, Budapest opens its Christkindlmarkts four weeks before Christmas, and just like everywhere else, they bring in front of the public a wealth of local traditions, arts and crafts, music and carols, and, of course, sweet and savory treats specific to the season. The Christmas Market on Vorosmarty Square, as already mentioned, is the most popular of all. Here is where all the tourists mingle, and it is hard to spot a local in the crowds. It is a picture-pretty setting, with spectacular lights, and scent of mulled wine in the air, a place to party, as well as a place to find handmade gifts and artisan Christmas art, all authentic, and made in Hungary. If you let your imagination free, you'll feel like a fairy tale character in front of the beautiful Café Gerbeaud, watching the light painting shows, and listening to the choirs.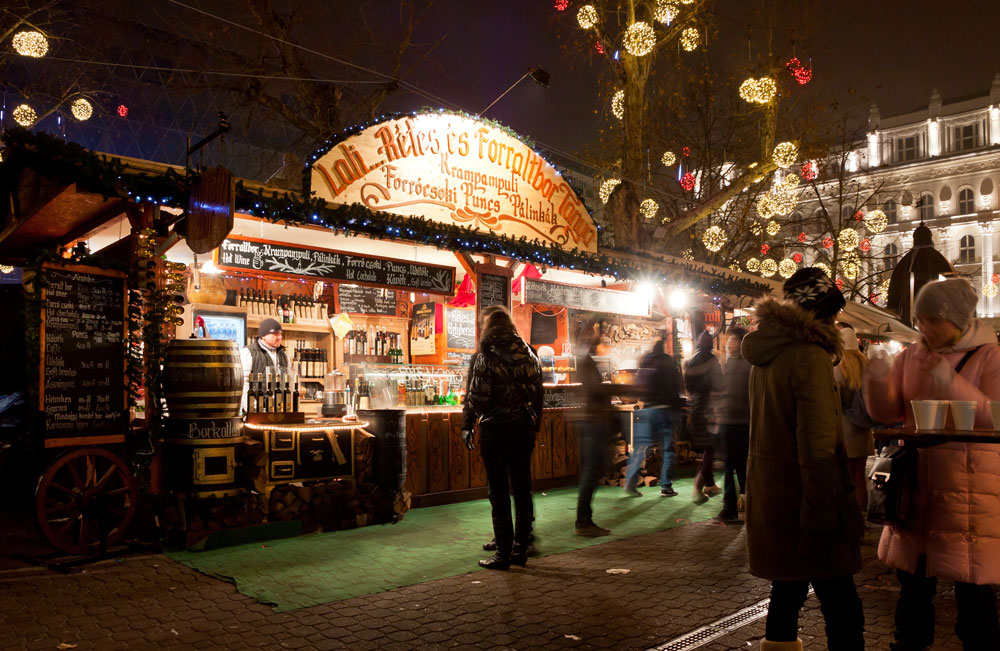 Right in front of the beautiful St Stephen's Basilica you will find Budapest's second most popular Christmas Market. This is a young tradition, dating only from 2011, but equally interesting for travelers, due to its location. For those who are looking for high quality traditional crafts, this is perhaps a better destination than the Christmas Market on Vorosmarty Square, because members of the National Association of Folk Artists are selling their creations here. It shall be easy for you to visit both Christmas fairs, as they are located within walking distance from each other.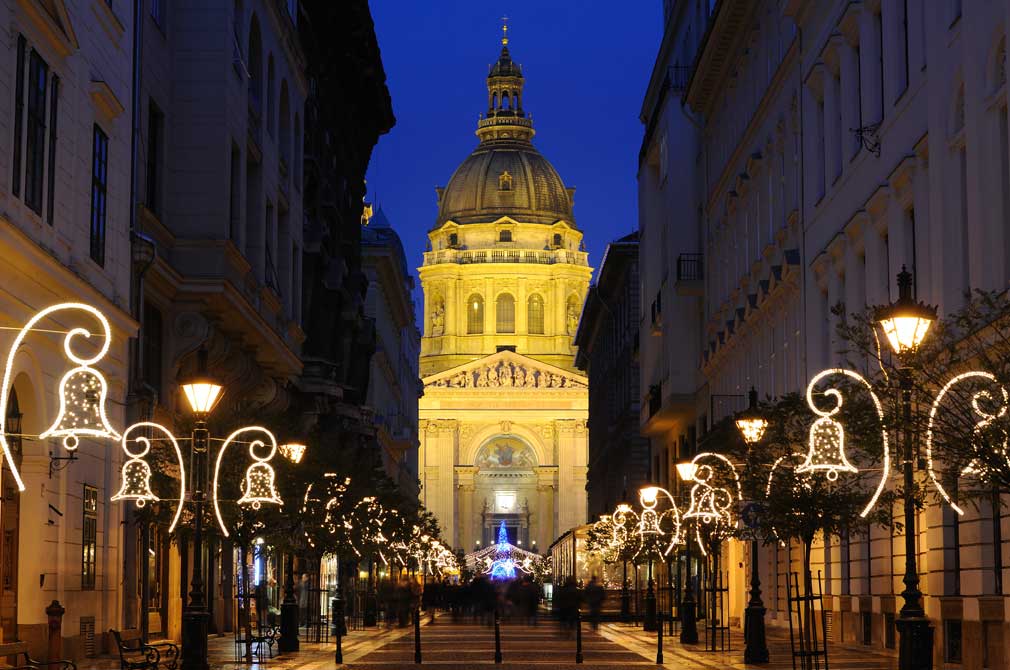 WAMP
is a monthly design market in Budapest, which changes locations, to make accessible to the public in different districts of the city works by Hungarian designers. Most Autumn-Winter fairs are usually taking place at Millenáris Park (Kis Rókus utca 16-20), but it is better to check their website for concrete schedule and locations.
The
Design Terminal
(Erzsébet tér 13) has a Christmas Market too. Almost one hundred Hungarian designers participate, with unique art objects, clothes, jewelry, and more. Don't miss it. In front of the postcard-pretty Vajdahunyad Castle you will find another fairy-tale-like setting for a Christmas market, not far from the ice rink. You can listen to live concerts, performed on the open stage at the Gothic building, you can sip mulled wine, and sure, you can also buy artisan goods created by local craftsmen and contemporary artists. If you are not in the mood for a Christmas fair, you can always just drop by to skate.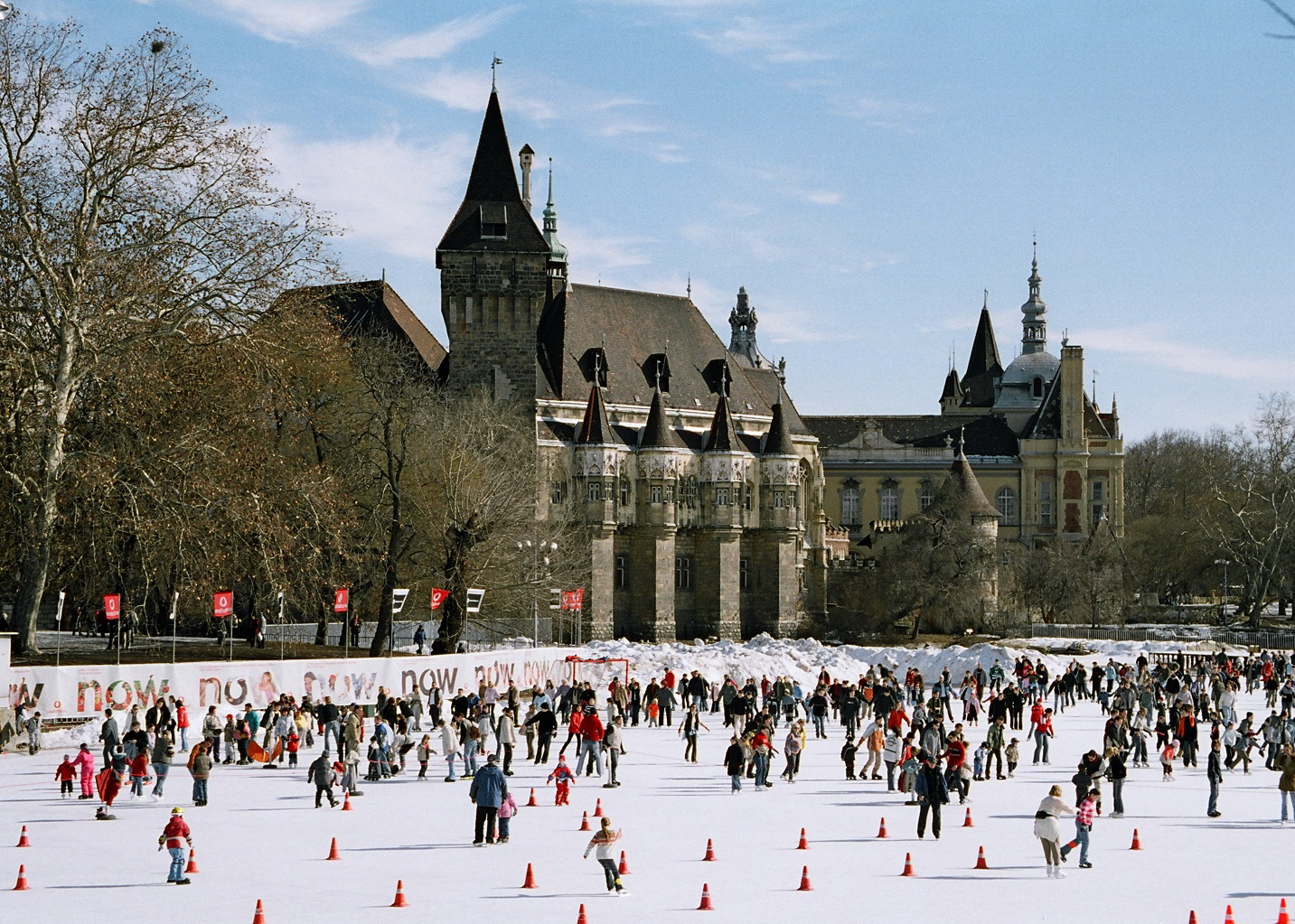 Skating Rink by Vajdahunyad Castle (Image via Wikipedia) A lesser known market is the Advent Fair in Obuda (Old Buda - Fő tér). It is scenic and small, and perfect for travelers who like to enjoy the city off the beaten path. This is where many locals like to shop, chat, and linger with a cup of mulled wine. The market is equally entertaining for kids, who can enjoy petting animals in a small petting stable, or skate on the artificial ice rink. Entertainment is rich and varied for such a small fair: puppet theater, live concerts, dance shows, and more. Last, but not least, the Bakats Square Christmas Market is as non-touristy as the Advent Fair in Obuda. It is only 10 minutes from the city center, in the 9th district of Budapest, Ferencváros. One of the main attractions at this fair is The Parish Church of St. Francis of Assisi, which was built by Miklós Ybl in French Roman style. This is where the locals come to attend the Advent mass, or just to hear the choirs singing. The Bakats Square Christmas Market is a must for its authentic spirit, and small town atmosphere.
Mihaela Lica-Butler is travel writer and travel public relations consultant by profession, lover of cultures and cuisine. She has built a fun career while chiming in on many topics, from relating the trials and tribulations of the people of Kosovo, to experiencing, first hand, the heroics of the Romanian soldiers serving for the UN. But she thrives in conveying her love for travel and places in written word, and she is happy to be a constant contributor for some of the world's best travel sites.