Christmas Cheer in Prague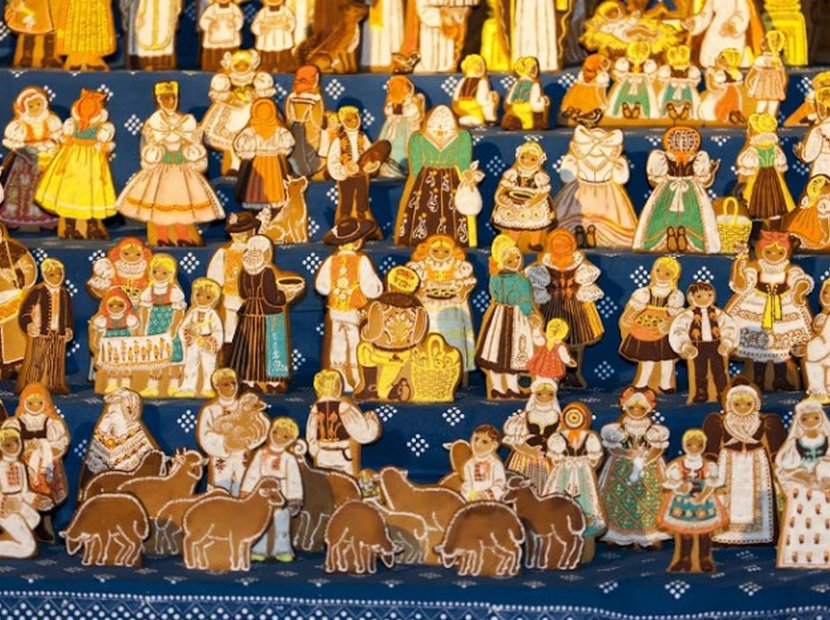 Christmas is a spectacular sight in Prague. Magnificent architecture gets dressed in a lace of shining lights; hundreds of Christmas trees sprout from nowhere lining up the imperial arteries, and even pedestrian alleys and markets; department-store window displays remind of the land of fairies and elves; and many other holiday attractions pop up around the city, spreading contagious cheer among locals and visitors.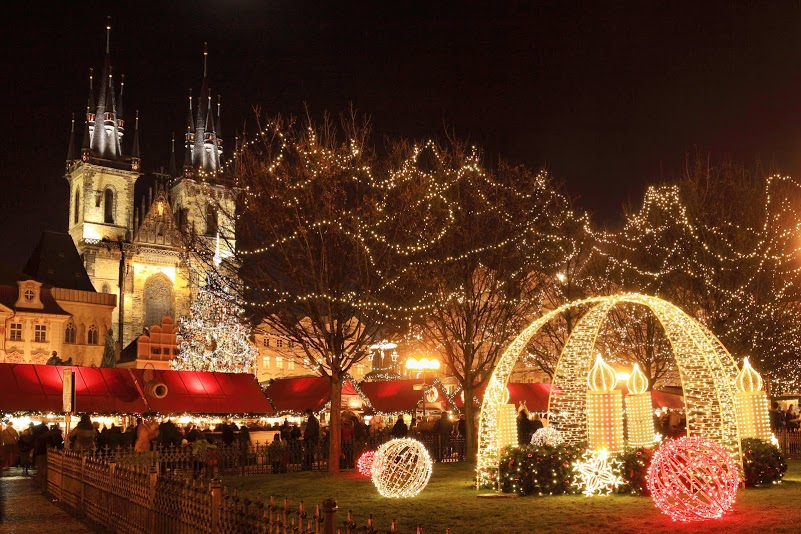 Christmas in Prague
© Kajano, on Fotolia.com
It's a season of joy and excitement, a time when age barriers fall, and the city becomes a huge playground for all. Even onlookers who don't believe in Santa Claus find themselves looking up at the skies gazing to see the magic sleight and its reindeers. You are greeted by colorful Christmas decorations at every step: some avantgarde, and using the latest technologies to woo and enthrall you; some artsy and chic, designed exclusively to make you want for more Christmas art; and finally, some traditional, to remind you of the local values, and the cultural past that shaped this holiday. From the lobbies of Mamaison Suite Hotel Pachtuv Palace, Mamaison Hotel Riverside, and Mamaison Residence Belgicka, all decorated in the spirit of the season, as you step out you can live your own Christmas story.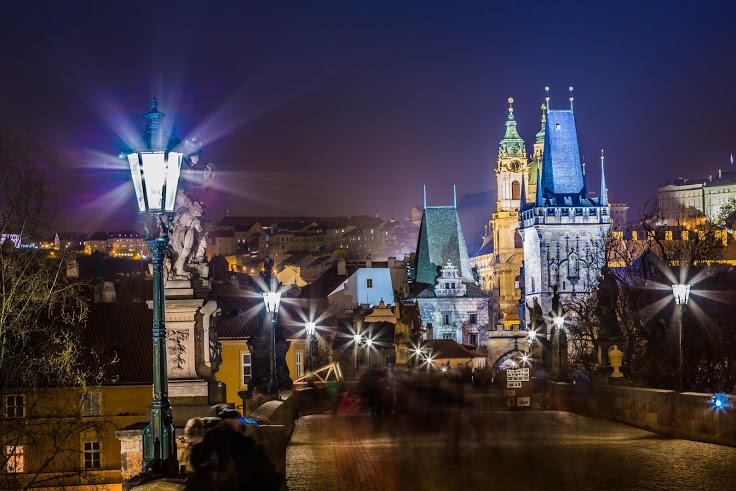 Karlov Bridge in Prague © Sergii Figurnyi on Fotolia.com First time visitors to the city must never miss the jolly atmosphere of the main Christmas markets of Prague, where tourists and residents alike spend hours munching on gingerbread cookies and Trdelník, or destroy their healthy diets with a fatty piece of ham and one sip too many from the local svařák wine, which perfumes the air with aromas of cinnamon and star anise. If you want to avoid the crowds gathered around at the Old Town Square and Wenceslas Square, where Prague's largest Christmas markets display all kinds of Christmas goods for sale, walk to Havelská Market, the city centre's permanent market, where you can shop like the locals, without needing to pay a season premium on your purchase, and the local Trdelník is as tasty as anywhere else too.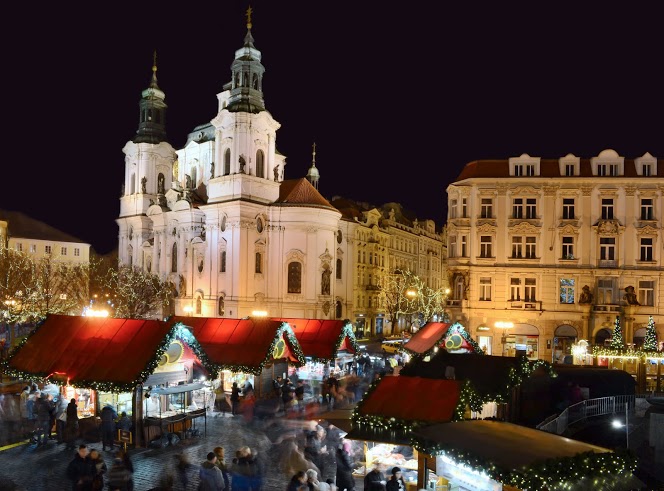 Prague Christmas © holublu6 on Fotolia.com Still, the true spirit of the Czech Christmas is better emphasized by the events organized at Toulcův Court in Prague - Hostivař. Here, the court and Baroque stables fill with almost a hundred craftsmen and retailers of traditional goods and old Czech snacks. Folklore and theater revive past traditions, Christmas nativity scenes, and local fairy tales. This is the place to learn how to make Christmas candles, greeting cards, decorations and even sweets. In other words, Toulcův Court is the ideal address to live an authentic Prague Christmas story, in an environment that educates and entertains.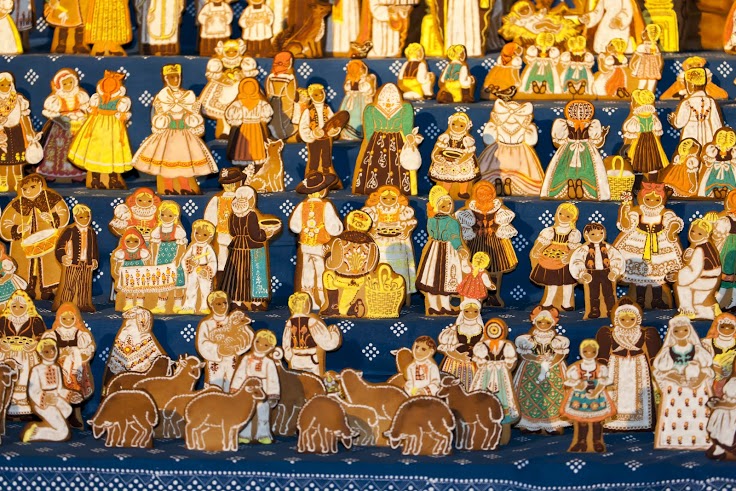 Gingebread crib at Saint Matthew, Prague © PHB.cz on Fotolia.com Then, buzzing restaurants, boutiques and nightlife will draw you in with even more surprises: special dishes, Christmas cocktails, sales, and amazing offers you cannot refuse. For restaurants, make sure you make a reservation way ahead, because this is the season when the locals take to the city's eateries by thousands, all so jolly and merry, celebrating every opportunity with passion and joie de vivre. Finally, when your spirit needs music to "wash away from the soul the dust of everyday life," as Berthold Auerbach once said, you'll find the heart of Prague beating in tune with God. Her beautiful churches, and even the Municipal House, open large doors, inviting the public to attend classical advent concerts and traditional Christmas carols. You'll rarely need a programme to know what's on: there's always something going on during this season.
Mihaela Lica-Butler is travel writer and travel public relations consultant by profession, lover of cultures and cuisine. She has built a fun career while chiming in on many topics, from relating the trials and tribulations of the people of Kosovo, to experiencing, first hand, the heroics of the Romanian soldiers serving for the UN. But she thrives in conveying her love for travel and places in written word, and she is happy to be a constant contributor for some of the world's best travel sites.